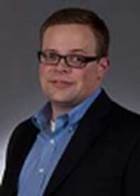 ​​Christopher A. Lanen, Chair​
Manager Strategic Initiatives, Raytheon Integrated Defense Systems
New England Board Member since 2013
Christopher "Chris" Lanen is an attorney working in the areas of corporate law as well as legislative and regulatory advocacy. Chris began his career in the public sector, serving as a legislative aide in the Washington, D.C. office of U.S. Senator Jack Reed where his work focused primarily on the federal appropriations process. Following his tenure in Senator Reed's office, Chris returned home to Rhode Island to serve as finance director for Congressman Jim Langevin's successful campaign for re-election in 2010.
Upon entering private industry in 2012, Chris joined Raytheon Technologies where he currently holds the title of Senior Manager, Government Relation for Raytheon Missiles and Defense.
Chris is a graduate of the University of Massachusetts School of Law (Dartmouth, MA), Bentley University (Waltham, MA) and North Kingstown High School (North Kingstown, RI).