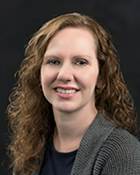 Tara Borsh
Psy.D., Clinic Director
Tara Borsh, Psy.D., is the Director of the Boys Town Nevada Behavioral Health Clinic in Las Vegas. She is a licensed psychologist specializing in individual and family therapy, and training for parents of children of all ages, from toddlers through adolescence. Dr. Borsh also provides psychological evaluations and community training and education on behavioral health issues.
Dr. Borsh received her Doctorate in Clinical Psychology from Midwestern University in Downers Grove, Illinois. She completed her doctoral internship at Grand Prairie Services, a community-based center in the south suburbs of Chicago, and her post-doctoral fellowship at the Boys Town Center for Behavioral HealthSM in Omaha, Nebraska, specializing in behavioral pediatrics.
Dr. Borsh enjoys working with parenting issues, anxiety, depression, trauma, ADHD, disruptive behaviors and elimination disorders.
Teaching Social Skills to Youth with Mental Health Disorders
Articles by Dr. Tara Borsh