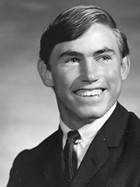 Dennis Chinault
Arrived at Boys Town from Richmond, Virginia, June 26, 1963.
He was an exceptional athlete, earning varsity letters in several sports, including track and field, gymnastics, and football. He played on the Cowboys' Metro Conference championship football team in 1968 and was voted All-Metro in football his senior year. Chinault won recognition as both the outstanding running back and outstanding gymnast at Boys Town in 1969. He excelled in pole vaulting, winning a district championship. He was also a three-year member of the B Club.
Chinault was offered a full-ride athletic scholarship to Midland College in Fremont, Nebraska. He was a pole vaulter on the track team and played both cornerback and fullback on the football team.
He joined the Marine Corps' Platoon Leader's Program (PLC) while in college and was commissioned as a second lieutenant in 1973 after earning his bachelor's degree in English education. After serving as a communications electronics officer, Chinault rose to the rank of Major. He served 20 years in the Marine Corps, retiring in 1993.
He had a multi-faceted career as a civilian that includes entrepreneurship and civil service. He served 10 years as a civil servant, while serving as the operations officer for the Marine Corps College of Distance Education and Training. He retired in 2016 and was awarded the Department of the Navy Distinguished Service Medal.
Chinault and his wife of 43 years, Darlene, reside in Stafford, Va. They have two sons and two grandchildren.