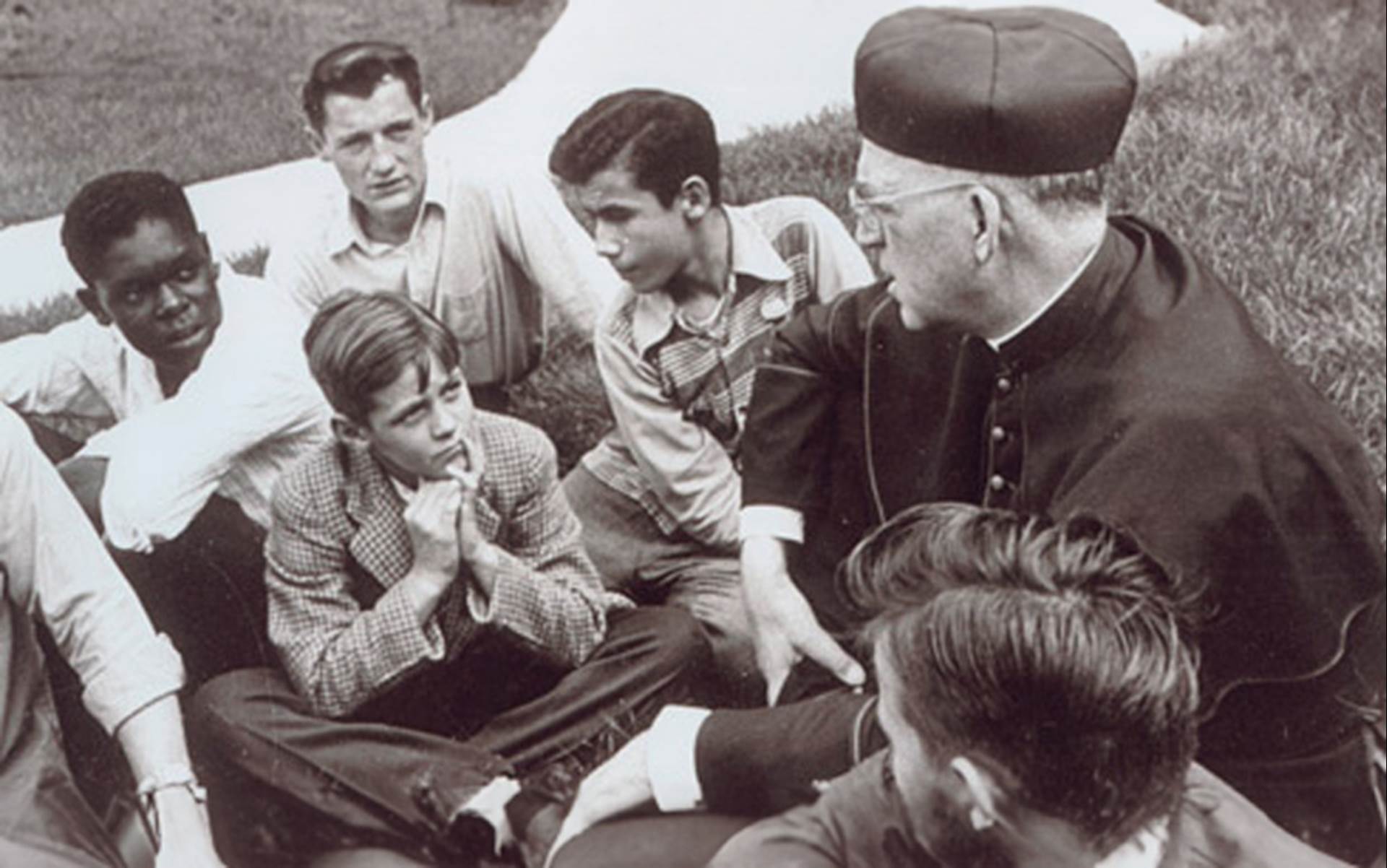 Father Flanagan's Foundational Values Ensured Boys Town Was Built to Last
Director of Community Programs and the Boys Town Hall of History
---
​Many child care organizations have come and gone since the beginning of the 20th century, but Boys Town has survived and thrived, serving America's youth and families for over 100 years.
What are the reasons for this longevity and success, and how relevant are the foundational values of the past to Boys Town's work today?
Doubtlessly, divine inspiration played a major role in getting the idea for Boys Town off the ground. Boys Town's founder, Father Edward Flanagan, was a Roman Catholic priest who is currently a candidate for sainthood in the Church. Even as a young priest, he saw the Church's mission as being much broader than saving souls. He wanted to save lives and raise the quality of life for those he served. These words crystalize his beliefs: "The work will continue, you see, whether I am there or not, because it is God's work, not mine."
And the work has continued. The inspiration that energized Father Flanagan continues to energize Boys Town staff today, all over the country. But divine inspiration is only one of the elements the visionary Father Flanagan wove into the fabric of his organization. Like all great leaders, he established a culture – one that flourishes today – that inspired staff to seek the very best ways to care for children each and every day.
A big part of this culture is innovation. Boys Town has been committed to developing and applying new knowledge and new and better ways of helping children and families in a never-ending quest to meet their needs. Father Flanagan travelled the country, learning about best practices and sharing his vision and the knowledge of Boys Town's successes and failures. This would later lead to Boys Town's reach becoming national in scope, serving children in its care while also improving other services across the nation.
The ministry he envisioned also was revolutionary in its emphasis on treating children as individuals to be loved and cherished. In America at the turn of the century, children were generally not protected from physical and emotional abuse. Child labor was very common, and tens of thousands of kids were homeless, both in the big cities and rural areas.
Father Flanagan would shatter these failures in child care by creating a place of learning, hope and refuge that has become the model for giving kids second chances. He wrote "… Rehabilitation rather than retribution is the goal, re-education rather than condemnation… through research and education, can we hope to prevent as well as to cure maladies of personality which for some end in tragedy and for millions of others in frustration and discouragement in life…."
Boys Town today continues Father Flanagan's belief that conducting research and educating the public about the causes of behavioral problems in children and families leads to effective solutions. During his lifetime, Father Flanagan said Boys Town would be a research center dealing with children issues, and a source of hope for the nation.
"Institutions devoted to the task of educating for useful citizenship the homeless, abandoned and neglected youth of the nation also offer opportunities for study and observation which can be used to further the program of guidance," Father Flanagan said. "It would be a definite loss to society, and especially to those in need of help, if these resources were overlooked."
Boys Town's current efforts in neurobehavioral research, which could lead to breakthrough treatment practices for troubled children, have brought Father Flanagan's ideas to fruition.
The ultimate foundational value is the belief that all children can learn positive skills and behaviors, and develop into productive citizens and family members if they receive sufficient training and experience, even if they have suffered unfortunate circumstances in their past.
These principles and values are alive today, and are as relevant and applicable as they were when Boys Town first opened its doors more than a century ago. And they have guided and will continue to guide Boys Town endeavors into the future.
Boys Town was built to last!