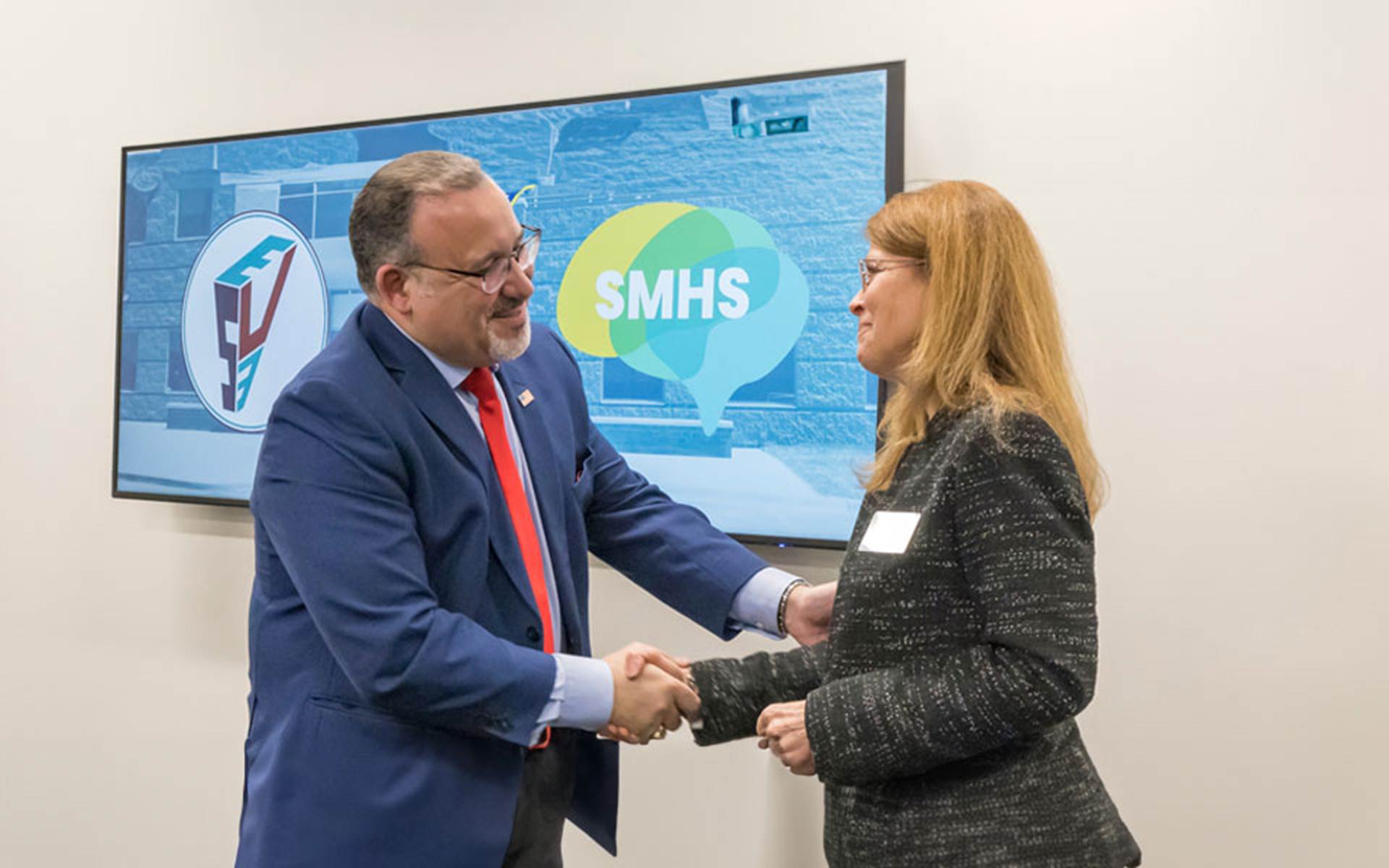 Boys Town's Dr. Connie Schnoes Selected for Roundtable Discussion With Dr. Miguel Cardona, Secretary of U.S. Department of Educa
---
Dr. Connie Schnoes, Director of National Behavioral Health at Boys Town, was one of 10 professionals selected to participate in a roundtable discussion with Dr. Miguel Cardona, Secretary of the United States Department of Education, February 8, at the Nebraska Educational Service Unit #3 offices in LaVista.
The discussion with Dr. Cardona focused on education and mental health programs provided to students in rural communities served by ESU #3.
According to Dr. Schnoes, she was honored to have the opportunity to sit on the panel.
"It was definitely an honor," she said. "I have not had another experience that matches it in terms of significance and potential for impact."
She also said she was pleased that Dr. Cardona took the time to visit the state of Nebraska.
"Dr. Cardona took a genuine interest in the work being done here in Nebraska," said Dr. Schnoes. "He is truly committed to transforming education in this country and working to ensure the mental health of children is addressed along with academics."
Dr. Cardona's trip to Omaha came on the heels of the Secretary's recent major address, "Raise the Bar: Lead the World," where he laid out his continued priorities to promote academic excellence and prepare for global competitiveness, and the Biden-Harris Administration's commitment to ensuring states, school districts and schools have the support they need to prepare students for the 21st century global economy.
Dr. Schnoes' husband, Dr. Dan Schnoes, was also a member of the panel. He is the Chief Executive Officer of Education Services for ESU #3, which includes the 18 school districts in Douglas, Sarpy, Washington, and Cass counties in Nebraska. Those school districts serve around 85,000 of Nebraska's students. Dr. Dan Schnoes previously worked at Boys Town. He has assisted Boys Town with its LIFT program expansion efforts.
Dr. Cardona also toured Omaha Bryan High School during his visit and saw its Urban Agriculture, Design and Construction, and Transportation and Logistics academies. He also had a discussion with Bryan students about their experience in a career-technical education (CTE) program.​