Frequently Asked Questions about Donating to Boys Town
Fundraising and Donations
Q. Why does Boys Town fundraise?
A. Boys Town participates in fundraising to help finance the services we provide to at-risk and struggling youth and families nationwide. We provide a range of services, such as residential care, foster care, crisis intervention, parenting resources, mental and behavioral health care and hospital and pediatric services. Boys Town's mission is to change the way America cares for children and families by providing and promoting a continuum of care that strengthens body, mind and spirit.
Since Father Flanagan purchased Overlook Farm, the current site of Boys Town in 1921, Boys Town has always been an incorporated village. In the beginning, establishing Boys Town as a village was vital to ensure that boys of all races, colors and creeds would be welcome, regardless of any existing laws prohibiting that practice. Today, Boys Town remains an incorporated village, and is responsible for maintaining all its own infrastructure, utilities and emergency services, and donations help to fund those efforts.
Additionally, Boys Town is continually working to improve the lives of children and families nationwide by actively expanding our training and resources into the digital space to help more teachers, classrooms and parents. We also fund services like the Boys Town National Hotline®, where people in need can reach out and get help from our specially trained Crisis Counselors 24/7, 365 days a year.
Q. Does Boys Town need to fundraise?
A. Yes. While Boys Town does have a fund that provides a valuable safeguard to ensure that we can continue providing care for children, the fund would be depleted within just a few years if it were used as the sole source of funding for Boys Town's operations. That's why Boys Town's successful fundraising is vital to the continuation of our mission.
Q. How are the donations used/spent?
A. Donations are used to fund the valuable programs and services we provide to save children and heal families. We are committed to being transparent and accountable for every dollar donated. Our financial reports and annual updates provide a clear understanding of how funds are used to support our mission. We retain the highest ratings with Charity Navigator, BBB Wise Giving Alliance and GuideStar.
Nonprofits assign expenses in three categories: programs, management and general, and fundraising. Here's a look at the Boys Town breakdown.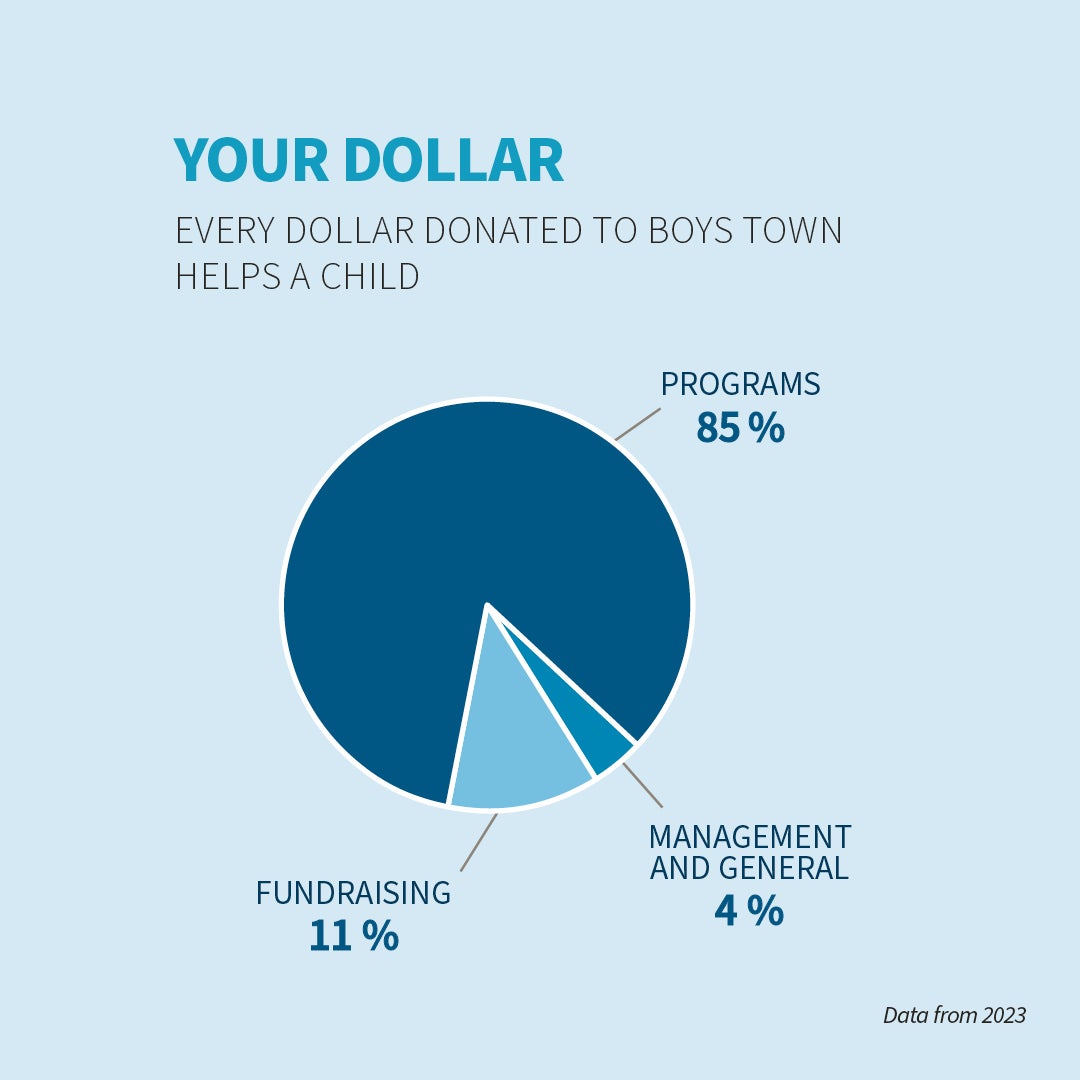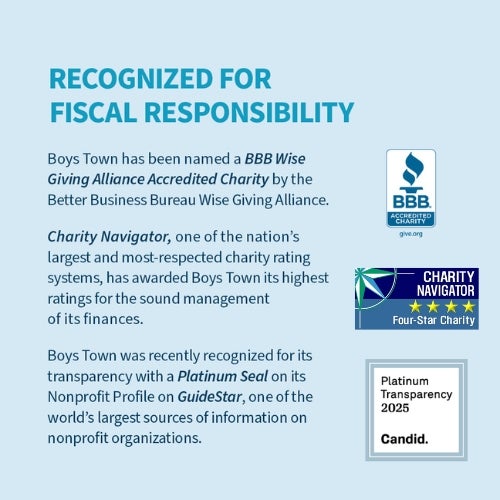 Q. Can a donor specify how their donation is to be used?
A. Yes, donor intent is a priority at Boys Town. We deeply value and respect the wishes of our generous donors. When a donation is made, it is possible to specify where the funds are to go, and we ensure that all gift restrictions and/or designations are fulfilled. If a donor requests a specific preference about how the contribution should be used, Boys Town ensures that the donation goes exactly where it was requested to go to make a meaningful impact.
Q. Where are the donations used if no specific request is made?
A. Unrestricted contributions are used "where needed most," and directed toward the heart of our mission: providing direct care and support to the youth, families and patients we serve. These funds also give Boys Town the ability to respond swiftly to emerging needs and emergencies within our organization.
Q. Do donations really make a difference?
A. Yes. Donor dollars are instrumental in helping us deliver vital services and support. We take great care in allocating funds efficiently to ensure that they have maximum positive impact on those who depend on us. Your contributions, no matter where they are directed, contribute to real, tangible outcomes in the lives of those we serve. Your support helps us make a difference, one child, one family and one patient at a time.
If you have any specific questions about how your donation is being used or would like to discuss making a donation, please contact the Boys Town team at 1-800-217-3700.
This is what your gift can do.