About
Welcome to Boys Town South Florida
Combining over 100 years of experience at the national level with extensive program evaluation, research and 30+ years in South Florida, Boys Town offers life-changing services to help approximately 6,000 families and heal more than 3,000 children every year with the following services:
A lifeline for children suffering from behavior and mental health issues through our Behavior Health Clinic.
Help for families in need of emotional support 24/7 and parent skills through In-Home Family Services.
Modeling positive parent-child interactions through parenting training and Common Sense Parenting®.
Home visits for families focusing on language and pre-literacy skills for toddlers through our ParentChild+ program.
Primary Project improves student's adjustment to school to enhance social and emotional well-being.
Community resource connections and parenting skills to support and empower parents and caregivers with children struggling with mental health problems through Care Coordination Services.
Our trained Boys Town Family Consultants work out in the community, at select schools and in the homes of families to help parents and caregivers get on a positive path to creating a healthy home environment to raise their children.
Boys Town has a long history of serving as an excellent steward of our donor support. Charity Navigator , one of the nation's largest and most-respected charity rating systems, has awarded Boys Town its highest rating for the sound management of its finances.​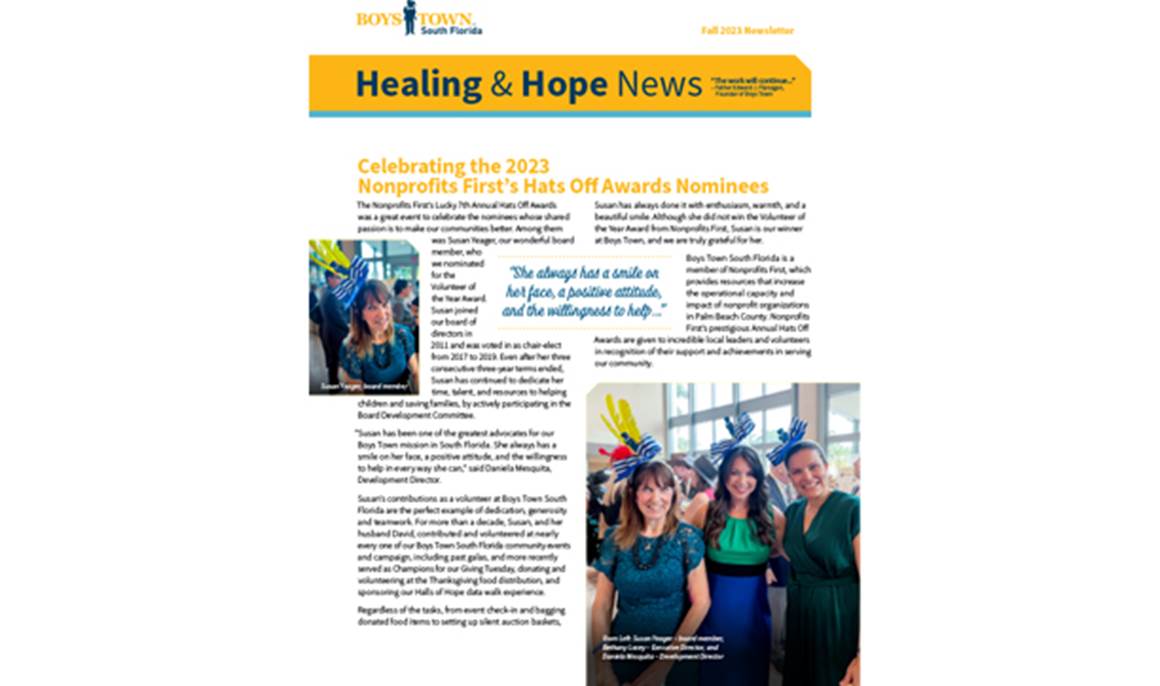 Newsletter
​​We are excited to share with you our quarterly newsletter, chock-full of success stories, event highlights and donor thank yous. Please download a copy today!To receive printed or email copies in the future, please contact Daniela Mesquita at daniela.mesquita@boystown.org​ or 561-612-6008.
Our Partners
​​​​​​​​​​​​Boys Town South Florida collaborates with other community ​​organizations working ​to​ improve the​ lives of ​children and families in Florida. We thank ​them for their dedication ​and commitment.
Corporate Support
​​​​​​​​​​​​We would like to recognize the following sponsors for their outstanding support of at-risk children and families. Without them, ​​​children in the community would not receive the care they need.
If you would like to become a supporter of Boys Town South Florida, please contact us.​