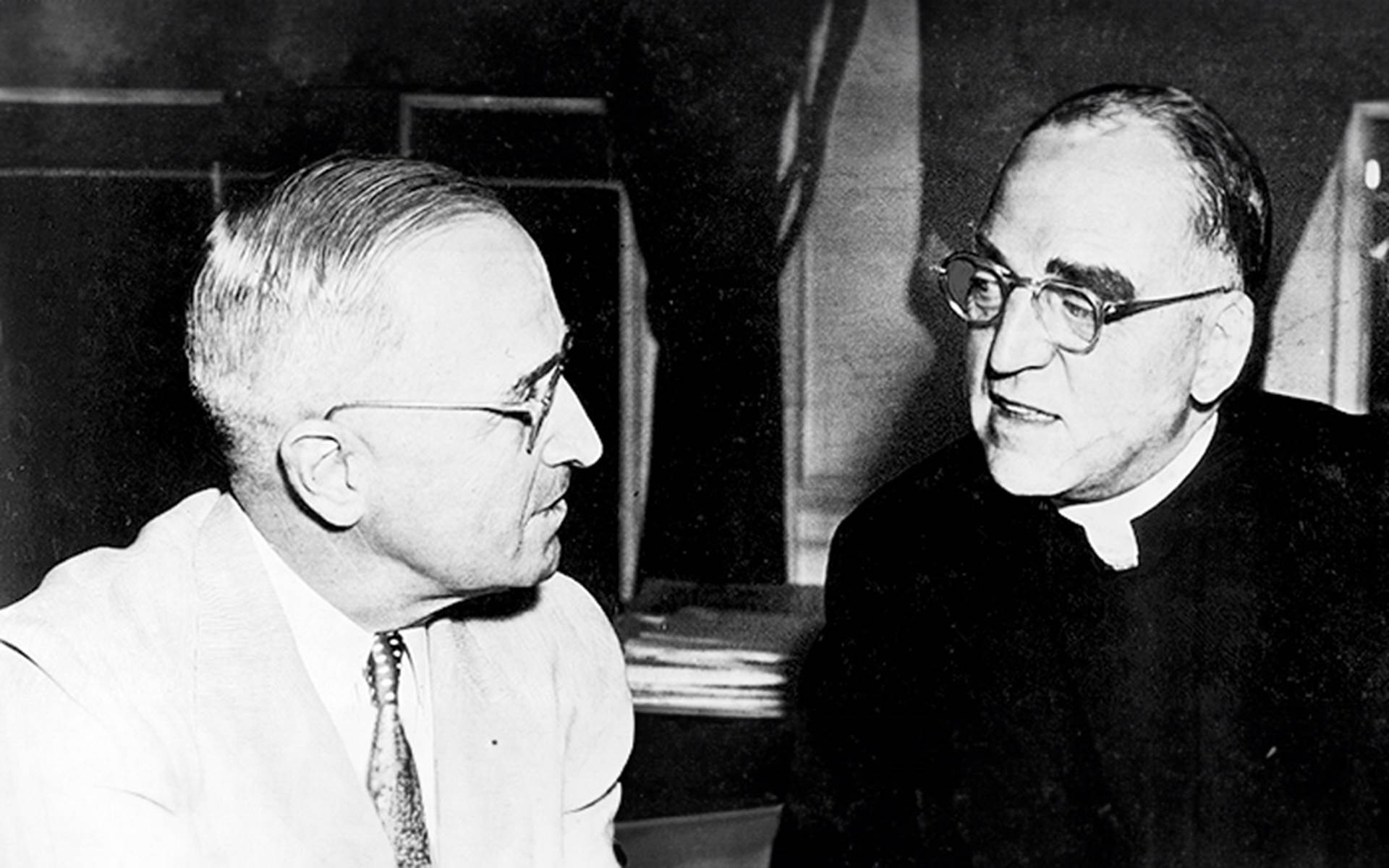 US Presidents and Boys Town
Director of Community Programs and the Boys Town Hall of History
---
Father Edward J. Flanagan was an immigrant to America, and he treasured the freedoms his adopted country offered. When founding Boys Town in 1917, he stated one of his goals was to create good American citizens who actively carried out their civic responsibilities. As role models for the boys, and to help promote his ministry, Father Flanagan sought the support of several United States presidents.
In the 1920's, President Calvin Coolidge would spend part of the summer in Wisconsin. One year, Father Flanagan made arrangements for the Boys Town Juvenile Entertainers to provide Coolidge with a special concert. Impressed by the entertainment, the president posed for a photograph with Father Flanagan and the boys.
One president Father Flanagan often discussed with the boys was Herbert Hoover. President Hoover had been an orphan who went on to become the leader of America. Father Flanagan shared Hoover's story with the boys to show them that they too could achieve anything – even becoming president. In the 1930's, Father Flanagan and boys made a pilgrimage to Hoover's birthplace in West Branch, Iowa to learn more about his unique life.
As news of Father Flanagan's work spread across America, thousands of people visited Boys Town including a future president and first lady. In November 1932, presidential candidate Franklin Roosevelt and his wife, Eleanor, visited the Home. Impressed by their tour, Roosevelt stated Boys Town was "…one of the most beautiful places" on their travels. This visit would have lasting impression on Roosevelt.
After being elected president in 1932, Roosevelt reached out to Father Flanagan seeking his assistance for the children of America. The Great Depression and Dust Bowl had led to many families losing their homes and thousands of children were left to fend for themselves. Father Flanagan offered Boys Town and its programs as examples regarding how to serve these children and families. In a White House meeting with Father Flanagan, President Roosevelt stated, "…American needed forty-nine more Father Flanagan's."
With the outbreak of WWII, Father Flanagan was appointed to several national commissions created to study the effect of the war on American children and families. As the war came to an end, Father Flanagan offered his expertise to help children all over the world.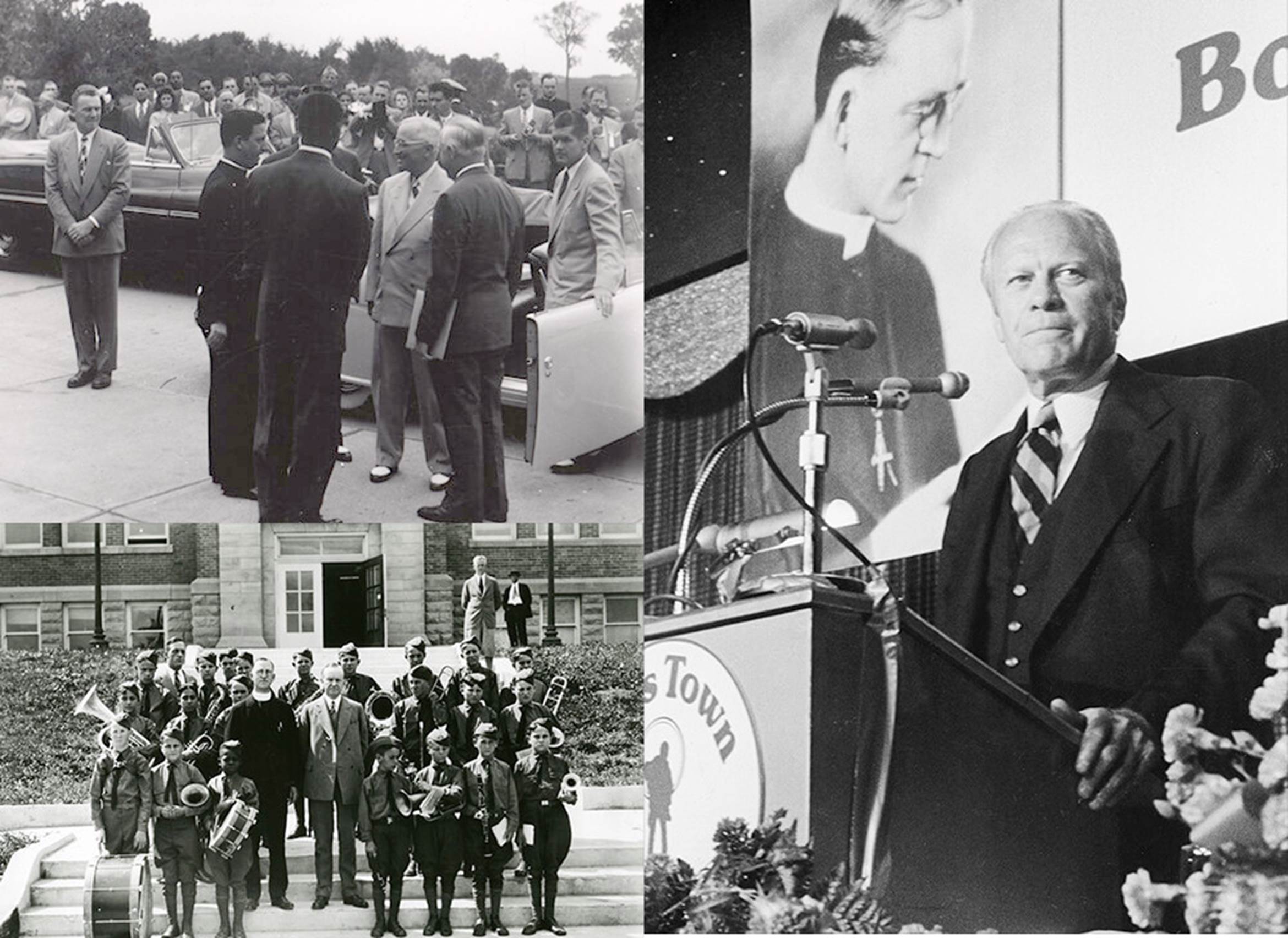 President Harry Truman, like President Roosevelt, considered Father Flanagan one of the leading experts in childcare. Truman sought Father Flanagan's advice on many issues involving children and families. In 1947, Father Flanagan began his mission to Asia to access the effects of the war on the children of Japan, Korea, and the Philippines. This successful mission lead President Truman to request Father Flanagan also travel to Europe.
In May 1948, while on a presidential mission to Europe, Father Flanagan passed way in Berlin, Germany. President Truman ordered Father Flanagan's remains to be returned to Boys Town for burial. Several days following his funeral, President Truman came to Boys Town to pay his respects to the boys and staff, and to lay flowers on Father Flanagan's tomb. In the decades that followed, Truman paid several more visits to Boys Town.
In the 1970's, Monsignor Robert Hupp – the third national executive director of Boys Town – received a special request from President Gerald Ford. In September 1976, President Ford appointed Monsignor Hupp to be a special representative to the United Nations. The year 1976 was the United Nations "International Year of the Child," and President Ford wanted Monsignor Hupp to represent America due to the continued success of the Boys Town youth care programs.
Over the decades, American presidents have looked to Boys Town as the model of care for children and families. Created in 1917 with a borrowed $90 by Father Flanagan, Boys Town has evolved and changed over the years but its mission to save children and heal families has never wavered.