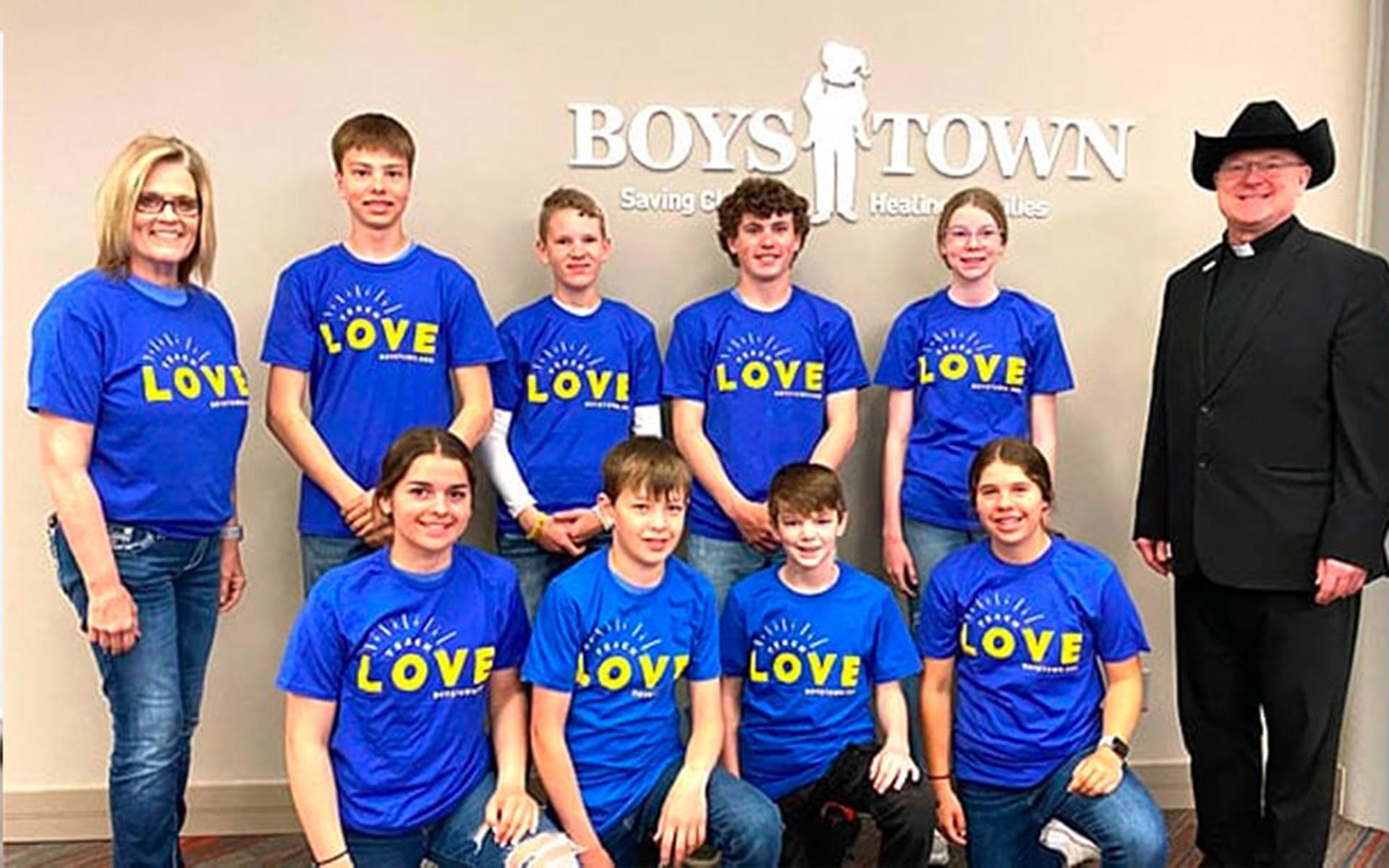 Syracuse Jr. High Student Council Donates $750 to Boys Town Education Center During Annual Visit
---
After a two-year break due to the COVID-19 pandemic, the Syracuse Junior High Student Council resumed its annual Spring visit and tour of Boys Town on Thursday, May 5, 2022. The group met with Fr. Steven Boes and presented him a $750 check toward the new Education Center being constructed on campus.
Over the past 16 years, the group has generously given a total of $7,750 to the Home. This year, the group's sponsor, Sallie Agena, said with construction of the new Education Center under way, it was a natural to direct their donation to the project.
"It is up to our kids to decide where they want to go for their yearly field trip, and where they want to donate the money they have raised over the school year," Agena said. "Ever since our first visit back in 2007, Boys Town has left an impression on our students. They have learned what Boys Town does for children – children that they have learned are just like them. And, they have learned a lot about the Home. Most importantly, they brought that message back to their classmates and it has created a great feeling for Boys Town."
This year the group was able to meet and take a picture with Fr. Boes and also visited the Hall of History, the Music Hall, Palrang Fieldhouse, Hill Top Apartments, which is the new home of Boys Town's Successful Futures' program, and Dowd Chapel, the final resting spot of Boys Town founder, Fr. Flanagan.
Agena said one thing that always stays with her students is the social skills Boys Town youth learn and use as part of their daily routine.
"When every Boys Town child makes eye contact, introduces themselves and shakes your hand, it leaves a lasting impression," she said. "Every year on our ride home, our kids comment on how the Boys Town youth are nothing like they expected. It gives them a special feeling of what is happening on your campus."
Agena said it was fantastic to once again be able to tour campus.
"Next year the new Education Center will be even closer to completion," she said. "It will be exciting for our students to see the progress that has been made."​