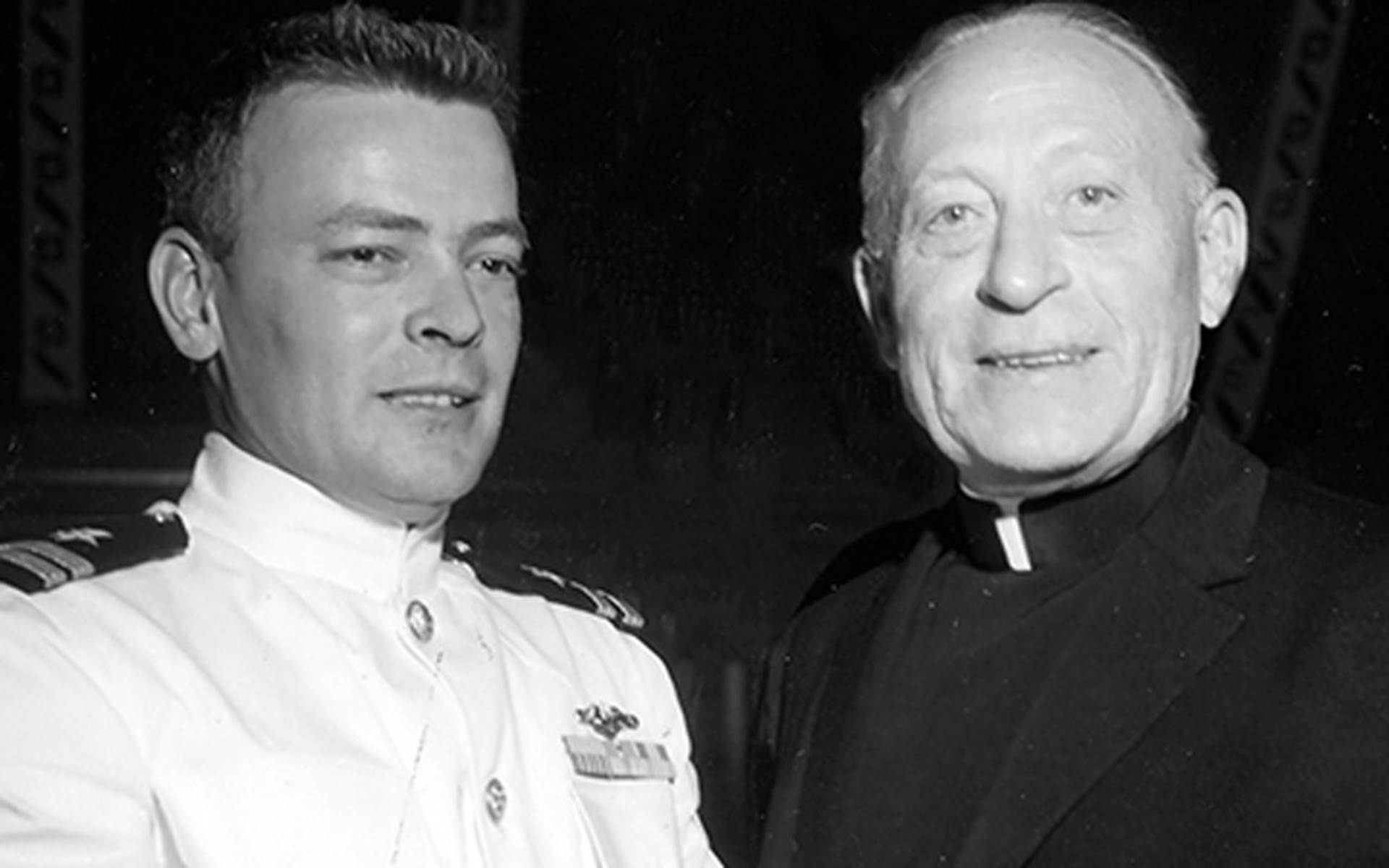 Alum's Role in History Exemplified Boys Town's Courageous Spirit of Military Service
---
​​​​In the month when we honor our veterans for their service and sacrifices in defense of our country's freedom, tension between the United States and North Korea continues to dominate the headlines. 
But this current situation is nothing new. In 1968, the capture of a U.S. Navy ship by North Korean armed forces sparked a dramatic international incident and a nearly year-long standoff between the two nations. And a Boys Town alum played a lead role in that harrowing event, displaying the courage, perseverance and leadership he learned as a resident of the Home.
Lloyd "Pete" Bucher, a 1946 graduate of Boys Town, was the commander of the USS Pueblo when it was attacked by North Korean ships and warplanes on January 23, 1968. One crewman was killed and 17 were wounded in the attack on the vessel, which was on a surveillance mission in international waters. Forced to surrender, Bucher and his 82-man crew were taken to a North Korean prison, where they endured 11 months of torture, starvation, beatings and threats of execution.
During this time, the North Korean government accused the Pueblo of spying and used the crew's capture as a propaganda tool to condemn the United States. The seizure of the ship set off intense negotiations by U.S. leaders to secure the crew's release.
Throughout the ordeal, Bucher constantly encouraged his men not to give up hope and to persevere, even when their morale was at its lowest. He even devised a system that allowed him to communicate with his crew and monitor their well-being, even when they were being held in separate cells.
Finally, on December 23, 1968, after 336 days in captivity, Bucher and his crew were released and returned to the United States. Their bravery and sacrifice was later recognized by the U.S. Navy and the Department of Defense, with each man receiving a Purple Heart and a Prisoner of War Medal.
In 1970, Bucher was honored at a "homecoming" dinner at Boys Town, attended by 1,200 people. Three years later, he retired from the Navy after more than 27 years of service and settled in Poway, California, with his wife, Rose. Bucher made numerous visits to Boys Town over the years before passing away in 2004.
In 2009, more than 80 members of the Southern California chapter of the Boys Town National Alumni Association® gathered at the Mount Soledad Veterans Memorial in San Diego to dedicate a marble plaque in honor of Bucher.
Even today, Bucher's bond with Boys Town remains strong. His black leather Navy jacket with the USS Pueblo emblem is on display at the Home's Hall of History, along with other memorabilia. 
"That's about as close to family as I've ever had," Bucher once said of his time at Boys Town.
​Bucher shares a legacy of courage with thousands of other Boys Town alums who have served in the armed forces. On Veterans Day and throughout the month of November, Boys Town proudly salutes all of America's veterans – past and present – for their dedication to duty, love of country and commitment to freedom.