About
Welcome to Boys Town Washington DC
Boys Town Washington DC's mission is to change the way America cares for children and families. Our evidence-driven programs help children and adolescents overcome complex social-emotional and behavioral issues and impart the knowledge and skills they need to become self-sufficient. We also teach parents how to keep their children safe and ensure their overall wellbeing. We are one of 10 nonsectarian Boys Town affiliates. The Boys Town Model® used in our programs is nationally recognized and supported by more than 30 years of research, establishing it as one of the few effective data-driven models of care for youth and families. We are incorporated as an independent 501(c)(3) public charity and governed by a local board of directors who ensure that our programs are effective, sustainable and meet local needs. One hundred percent of contributions made to Boys Town Washington DC support direct services throughout the DC metro area. In 2022, our programs served 1,500 youth. For 30 years, Boys Town Washington DC has provided culturally relevant, family focused and holistic interventions to low-income, minority children and families faced with challenges such as mental and behavioral health, education and economic instability. The Boys Town Washington DC site offers an array of services that make up its continuum of care. Services offered throughout the continuum implement the same model of care at an individual level appropriate for the client's need. The continuum allows for clients to receive aftercare, links to resources and other services to help maintain stability and self-care beyond discharge and case closure.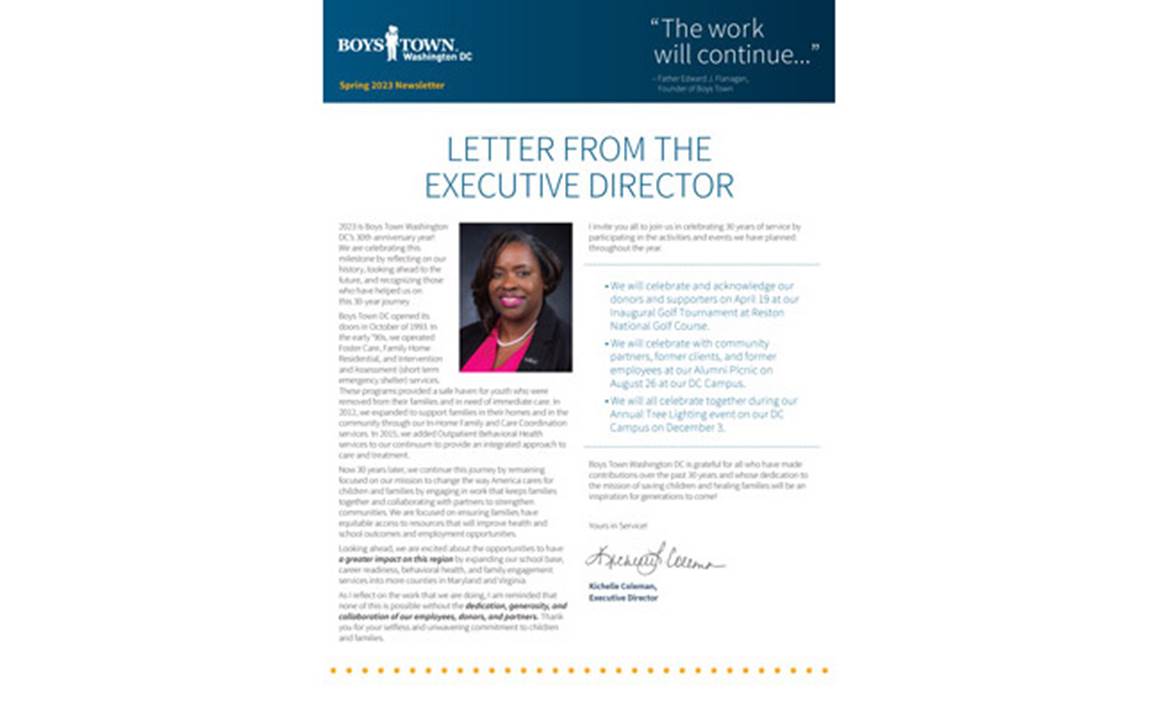 What's new at Boys Town Washington DC
​​​​​​​We are excited to share with you our quarterly newsletter, chock-full of success stories, event highlights and donor thank yous. Please download a copy today!